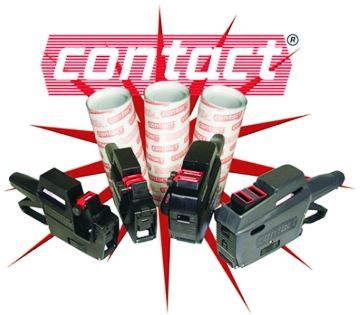 Do you need to stamp or label your products with pricing, Best Before, or Packaged On dates? We sell stamps and label guns that can get the job done!
Great for small businesses and food manufacturers, Contact Label Guns are made specifically for quickly labeling large lots of product. Easy to use and adjust, these label guns can stamp one and two lines on adhesive labels which come in a wide variety of pre-printed options, colours, or totally custom prints.
Looking for a stamp instead? Send us an email or call with your request and we can see if a stamp will work for your application.
Premium / One Line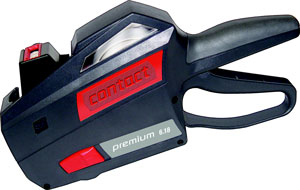 Available with 6, 7, 8, 9 or 10 characters of print
A-Z, month & date bands are available in special assembled configurations
Custom message slug available for all 1-line labelers
Quick change ink roller design for clean & simple ink roller changes
Smooth slip resistant dial indicator for quick & precise number changes
Perfect for all industrial (coding, dating, product ID) as well as all pricing applications
Prices starting at $87.50+gst.
Premium / Two Line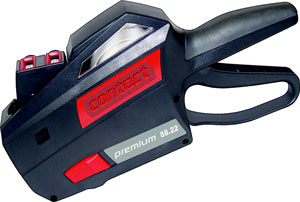 Has two lines which can both be customised with dates, pricing, or codes
Available with 6-6, 7-7, 8-8, 9-9 & 10-10 characters of print per line.
A-Z, month and date bands are available in special assembled configurations.
Easy turn knob makes for quick and easy changes.
Great for coding in industrial applications and price marking.
Prices starting at $142.50+gst.